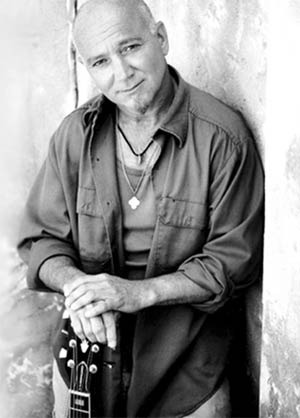 Owner of a raspy and strong voice, characteristic of rock singers from the 60's and 70's, Joel Justin performed for the people of bahia in October.
With five albums with the American band Mad Ants, singer and guitarist Joel Justin is recording a solo CD filled with rhythms from Bahia
YORDAN BOSCO
"In Bahia, you don't need to research rhythms. All you need to do is to walk the streets to know them and absorb them naturally. The musical and rhythmic manifestations are everywhere. They're in the way people dance, talk and walk." This statement shows the enchantment of the American singer, songwriter and guitarist Joel Justin. Justin, lead singer of the Mad Ants, of Chicago, visited Salvador for the first time two years ago as a tourist. His enthusiasm was so big that he returned last October, performed at the Isba Theater and negotiated the production and recording of his first solo CD starting in the studio in October 2003.
Owner of a raspy and strong voice, characteristic of rock singers from the 60's and 70's, Joel Justin, also a filmmaker, intends to make a CD very different than what he imagined to make before he experienced Bahia. Adding sounds of Ile Aye, Olodum to his new and soft ballads.
Margareth Menezes, among many others, represents more than a challenge for him, almost a necessity. " I know we have many good things in terms of music and lyrics, but it's been some time since I noticed that in my work there's a lack of rhythm." This is the opportunity to fulfill it, explains the singer. The album already has a title: 4/4. According to Justin, the choice alludes to the rhythms that he wants to incorporate on the work. Although the roots and influences found in the solo work and in the five albums of the band Mad Ants are the same, there's also some distance. The band brings clear influences of a heavy and melodic sound of bands as Led Zeppelin, Rush, Deep Purple and Black Sabbath. His acoustic sound brings Justin's voice accompanied by a dry guitar more like James Taylor and Neil Young. In both works his vocal qualities are fundamental points.
Despite Bahia's percussive innovations, the bulk of "4/4" will be the same as "The Bitter & Sweet Show" that Joel Justin has been performing in the US and brought to the stage of the Isba Theater. This work, in which the American has about sixty compositions which he had written over a four year period, felt the time was right to do something parallel to the Mad Ants. Recent solo performance's here in Salvador were very well received by an audience that sang along to many of the songs choruses after hearing them for the very first time.
Additional proof of the shows success came shortly after when Justin received a call from Margaret Menezes to sing a duet at the prestigious Trofel Caymmi Awards at the TCA Auditorium. The two met in Margaret's garden where Justin performed for her a new ballad titled, "Like it was Yesterday" which the Brazilian Star instantly fell in love with. Justin and Menezes along with her nine-piece band stunned the Awards show audience with the song, Margaret singing in English, and Justin harmonizing as though they had worked together for years.
Currently living between Hollywood, California and Chicago, Justin distributes his activities between shows and recording with the Mad Ants, his own original film creations, movie soundtracks and composing for future releases. His recent challenge was to write and produce one or two tracks for the upcoming movie, Big Fish, the latest production of famous director Tim Burton (Edward Sissorshands, Bat man.) He presented the filmmaker with twenty-nine tracks for his consideration. Another project Joel Justin hopes to finish soon is his documentary film, now five years in the making, about The Roller Derby history, a traditional skating sport in which his parents were famous participants.
Depending on the success of 4/4 which will be produced by Alexandre Lins (Ivete Sangalo) Justin wants to perform around here with the Mad Ants in the near future. "The warm welcome Brazil, especially Bahia, has given both the Mad Ants music and my new solo effort, makes it an irresistible place to be."