Chasing a dream: The making of a record deal
Portage recording artist lands big break in Brazil
BY JIM MASTERS
Times Correspondent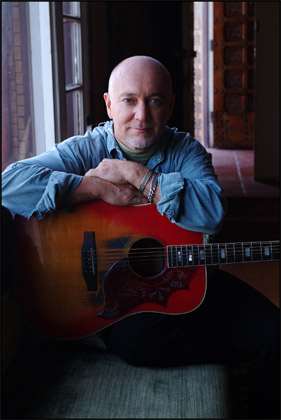 The American music business is littered with stories of broken dreams, rip-off recording deals and shoddy management.

But some artists make good on their hard work and long nights, like Portage native rocker Joel Justin.
Justin formed the hard-rocking Mad Ants in the mid-1980s, which gained a strong local following in the regional bar circuit. The band released four albums Justin produced in his Portage studio.

Justin always believed he had the songs to score a national recording deal, but came to the realization he had to relocate to the West Coast if his songs were to be heard by the "right" people.

After relocating in 1996 to the nation's entertainment capital n Los Angeles n Justin's dream stalled.

Commercial soundtrack work and a regular solo gig at a Hollywood nightclub paid the bills and helped keep his creative juices flowing.

But it was a vacation to Salvador, Brazil in 2002 changed everything.

Like the legendary Jimi Hendrix who first gained fame in London's club scene, many American rock-and-roll artists have pursued careers outside their home country.

In Justin's case, that country is Brazil.

"I was sitting in a hammock at a beach house where I was staying, writing a song, when I heard a knock on this door," Justin said. "This Brazilian guy who spoke very little English said he liked what he heard and told me how people in Brazil loved American music."

It turns out his soon-to-be friend and fan had many contacts in the Brazilian music business, and was able to make all the right introductions.

Those contacts led to the recording of his new CD, "4/4," which landed Justin regular air play on Brazilian radio, television appearances and newspaper stories about "the gringo" gaining popularity around the country.

Justin has shared the stage with Brazil's top recording artists, like Margareth Menezes, Talking Head's frontman David Byrne and Ivete Sangalo, regarded as the "Madonna" of Brazil.

He said Menezes plans to record a song he wrote, "Like It Was Yesterday," on her next CD.

Brazilians love classic rock, Justin says, so his brand of music found widespread acceptance.

"They are the best audiences in the world down there," Justin said. "They clap and sing your lyrics and try to use every little bit of English they know."

He advises other musicians to stay true to their sound and songwriting abilities and not try to compromise their art. Still, there are Brazilian rhythmic influences on "4/4," which pays tribute to his host nation as much as the musicians who played on the CD.

When the president of Universal Records' Brazilian affiliate called and said he loved his songs and thought they had global appeal, Justin thought a record deal was imminent.

Not so fast.

Like in the American music business, money talks, and Universal wanted Justin to pony up $10,000 for marketing and distribution before agreeing to release the CD.

And yes, radio payola is alive and well in Brazil, Justin said.

More advice: Know something about the economic conditions and business customs of a foreign country before you decide to take your show on the road, he said.

"It's a poor country," Justin said. "They want some financial assurances."



Life lessons

Traveling abroad on a passport is relatively simple, but staying for an extended period of time to work and live is entirely different. Justin found that out in November when his work visa expired and was unceremoniously told to leave the country. He recalled another instance when police solicited a bribe after being pulled over for driving without a Brazilian driver's license.

Cash and a good attorney count for a lot in a third world country, Justin said.

It took a while, but he got his papers in order and plans to return to Brazil on a six-month work visa in April.

"To work in the country you have to be invited by someone," Justin said. "They have to go to the Brazilian capital and file the papers for you. They are responsible for anything you do while you're in the country."

If Justin had been younger than his "forever 49" age and looked a little bit more like Brittany Spears, he believes the path to success, especially in Brazil, would have been much easier.

"Sometimes, the music business has really very little to do with music," he said. "It's about how to make money first and what sells the easiest, but you do need the songs."

Crossing cultures

The fact that an American has embraced the culture and seeks economic opportunities in a third world country where many people would give anything to come and work in the U.S. has endeared him to the Brazilian population.

Justin is currently staying with relatives in San Francisco, but he returns home to Portage about twice a year to visit his parents, former roller derby stars Joe and Genie Nygra.

He's been engaged in an investment campaign so Universal will not have an excuse not to sign him. His letter to prospective investors offers a beach house vacation in Brazil, an opportunity to rub elbows with the country's biggest stars and a portion of the CD's sales profits, among other perks.

"$100,000 goes a long way down there," he said, adding that his first order of business will be to squeeze some financial backing out of Brazil's wealthy elite in Sao Paulo.

Justin recorded "4/4" and first gained popularity in the coastal city Salvador, a vacation area that has many more poor people than rich. He advises musicians to learn the best places to do business in a foreign land before traveling there to seek fame and fortune.